1 option de remplacement trouvée
Pompe existante - Génie climatique
Nom du produit
NMTD PLUS 25/40-180
Alimentation réseau
1x230 V
Corps de pompe fileté/bride
G 40 utv.
Nom du produit
Yonos PICO-D 30/1-6
Alimentation réseau
1x230 V
Corps de pompe fileté/bride
G 50
Plage de température du fluide
-10 - +95 °C
Commentaires
Longueur conforme d'un port à l'autre et diamètre de connexion différent.
Informations produit
Yonos PICO-D 30/1-6
Yonos PICO-D 30/1-6
Numéro d'article : 4230948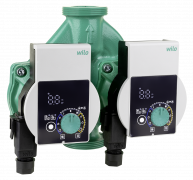 Your advantages

LED display for adjusting the setpoint in 0.1 m increments and showing effective consumption
Electrical connection without tools using the Wilo-Connector
Unique pump venting function per pump
Twin-head pump for individual (Δp-c, Δp-v and constant speed) or parallel (Δp-c and constant speed) operation
Very high starting torque for reliable starting
Construction
Glandless twin-head circulator with screwed connection, blocking-current proof EC motor and integrated electronic power control.

Application
All hot-water heating systems, air-conditioning applications, industrial circulation systems.

Equipment/function
Operating modes:

Constant differential pressure
Variable differential pressure
Constant speed (3 control pump curves)
Manual functions

Setting the operating mode in accordance with the application
Setting of pump output (delivery head)
Setting the constant speed
Pump venting function
Manual restart
Automatic functions

Continuous power adjustment according to the operating mode
Automatic restart
Automatic dry-running detection
Signal and display functions

Display of power consumption in W
Display of delivery head for setting
Display of fault messages (error codes)
Display of manually activated restart or pump venting function
Equipment

Quick electrical connection with Wilo-Connector
Pump venting function
Manual restart
Blocking-current proof motor
Particle filter
Twin-head pump function

Main/standby mode (automatic fault-actuated switchover/time-dependent pump cycling). If the twin-head pump is to be operated in main/standby operation, the control mode and the delivery head or speed stage C1, C2, C3 must be set so they are identical.
Parallel operation (efficiency-optimised peak-load activation and deactivation). If the twin-head pump is to be operated in parallel/peak-load operation, the control mode Δp-c must be set with the same delivery head or constant speed with identical speed stage C1, C2, C3.
An additional switchgear is required for switching the pumps, e.g. in the event of a fault.
Scope of delivery

Pump
Wilo-Connector
Gaskets
Installation and operating instructions
Technical data

Fluid temperature -10 °C to +95 °C
Mains connection 1~230 V, 50 Hz
Protection class IPX2D
Rp 1¼ screwed connection
Max. operating pressure 10 bar